Felix Holt: The Radical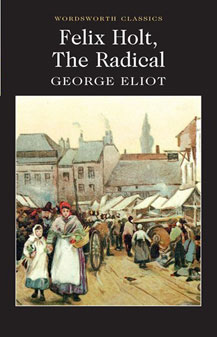 When the young nobleman Harold Transome returns to England from the colonies with a self-made fortune, he scandalises the town of Treby Magna with his decision to stand for Parliament as a Radical. But after the idealistic Felix Holt also returns to the town, the difference between Harold's opportunistic values and Holt's profound beliefs becomes apparent. Forthright, brusque and driven by a firm desire to educate the working-class, Felix is at first viewed with suspicion by many, including the elegant but vain Esther Lyon, the daughter of the local clergyman. She discovers however, that his blunt words conceal both passion and deep integrity. Soon the romantic and over-refined Esther finds herself overwhelmed by a heart-wrenching decision: whether to choose the wealthy Transome as a husband, or the impoverished but honest Felix Holt.
2016 is the 150th anniversary of the publication of Felix Holt. The Fellowship has commissioned a reprint of the Wordsworth Classics edition, with a new cover showing Nuneaton Market Place in the 19th century by Patty Townsend, a local artist who died in Nuneaton in 1907. Nuneaton is thought to be the inspiration for Treby in the novel.
To mark the 150th anniversary we are setting up and encouraging reading groups. We will provide books to reading groups at a cost of £1.50 each, with a minimum order of 10 books. Carriage/delivery to be arranged on an individual basis.
We are also publishing the background notes from Denis Baylis and Vivienne Wood from the reading group they are running in Bedworth for members of the Fellowship. 24 members have so far joined the group.