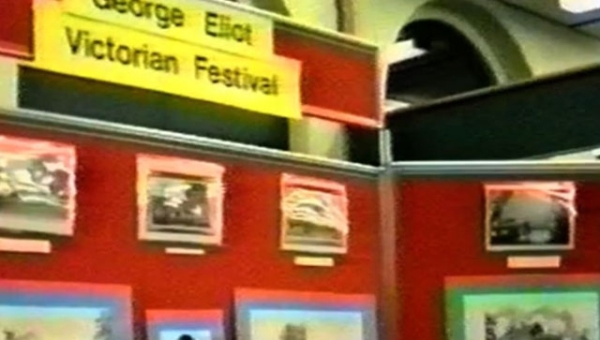 George Eliot Festival 1990
We are very grateful to Gerry Bishop and his group of amateur film makers in Nuneaton for this item. The film shows an exhibition held in Nuneaton Library and Museum in 1990. The film shows the quality of video before the digital age. Gerry would like to repeat the exhibition but retain the commentary. It remains to be seen whether that might be possible.
For local Nuneaton people, however, the interest lies in the commentary. It was spoken by the then curator of Nuneaton Museum, Ann Robson. There is a lovely sculpture of Ann in the Museum. She died of cancer only a few weeks after recording the commentary for this film, at the tragically young age of 32. She was much loved and is still remembered with affection 30 years later.
Time has made some of the items seem out of place, and several of them are now back at the Herbert in Coventry. That same year Nuneaton and Bedworth set up an ambitious Christmas lights events on a Victorian theme and featuring George Eliot wherever possible. It was a huge success, widely advertised and probably breaking all Health and Safety advice with the numbers packed into all the town centre streets.