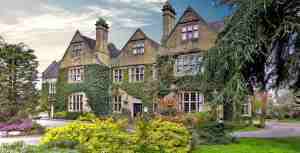 This is the annual meal to commemorate the birthday of George Eliot. The first one took place in 1930 and apart from the war years it has been held every year since. Weston Hall is a distinguished looking Jacobean building, once home to the local aristocracy. George Eliot's aunt and her husband are buried in Bulkington and they lived at nearby, but now demolished, Marston Hall. There are some who think Bulkington was a model for Raveloe in Silas Marner.
Guest of honour will be Lesley Smith, who devised and performed her own one-woman show on the life of George Eliot and performed it three times during the bicentenary year.
Lesley Smith is known and admired all over the Midlands for her presentations of the lives of strong and interesting women, from Elizabeth l to Margaret Thatcher. She performs in beautifully designed and historically correct costume, extensively researched. Lesley has a PhD in Tudor medicine and is curator at Tutbury castle, near Burton-on-Trent.

She loved researching and reading George Eliot and has incorporated her into her repertoire of strong and famous women. The picture shows her in the George Eliot costume when she appeared at Weston Hall during the bicentenary year.